专门帮助美国华人克服职场上的挑战,迈进各行业的管理阶层。

About this Event

职场上,挑战与机遇并存。富有成功经验、多元背景的职场教练,将为您提供系统培训,提升您迈进各行业管理层的所需技能,加速职业发展。
这里的培训,以英文为主,有中文导师辅助。
时间: 2020年6月2日,5日,9日和12日 6PM-8PM,PST 美西时间,计4次8小时。
形式:ZOOM 在线授课。
培训教练风采预览
5月30日,几位嘉宾做了一个分享,算是培训的预览。有关视频,请参阅以下链接

Part 1:
Part 2:

======================================================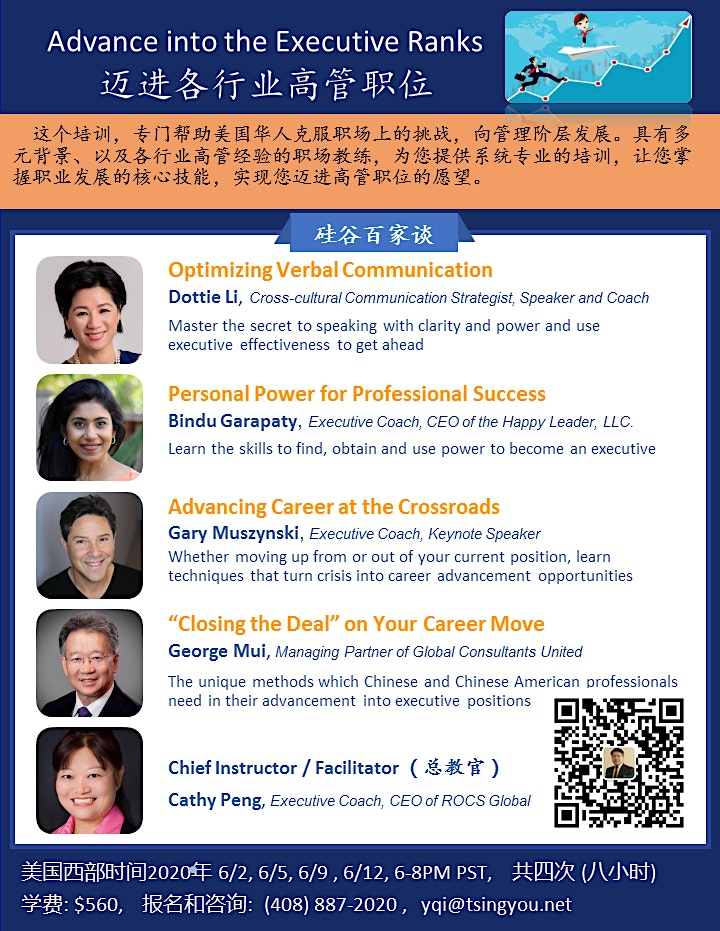 本讲座是由"硅谷百家谈"组织的,人数有限。 在线支付(Paypal),有优惠。请扫描以下二维码,入群交流。其他联系方式:
(408)887-202 yqi@tsingyou.net
微信ID: guigulaoqi
============================================================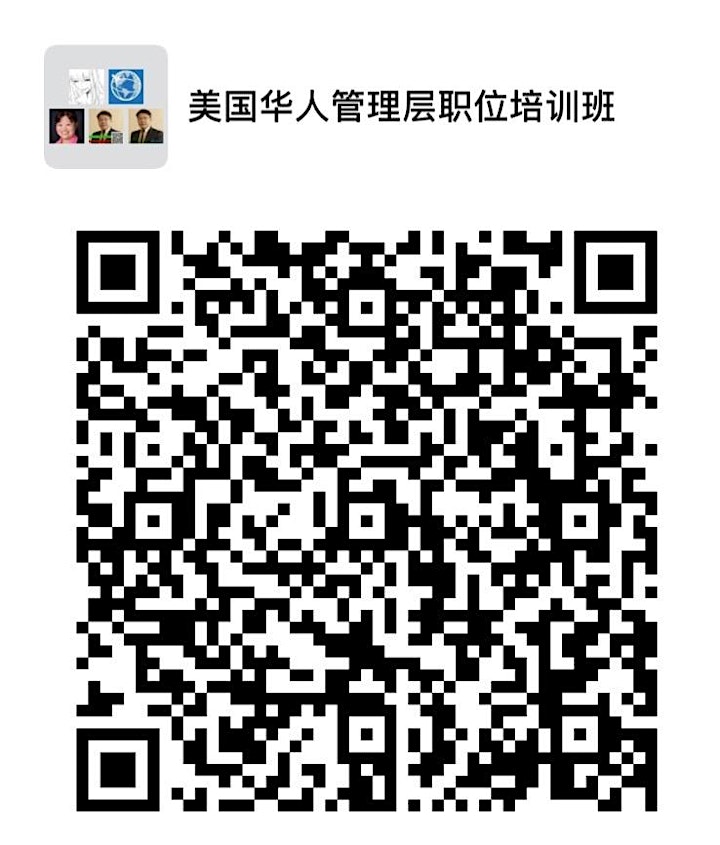 Course Description
This interactive online course is
designed for mid-level non-native English professionals. It gives you
the tools to communicate better with enhanced clarity and purpose,
neutralize accents while developing effective methods of delivering
message to your most important audience. This course helps elevate you
to C-Suite positions, reducing complaints and communication barriers as
well as improving bottom line.
During this workshop, TransPacific
Communications' Founder and CEO, Dottie Li, a non-native who is a
professional keynote speaker and trainer, will give you practical
instructions on how to be more effective in your communication by
neutralizing and modifying your accent and enhancing your understanding
of cross-cultural interactions.
Part 1 of this course will focus
on the typical characteristics of non-native English speakers as well as
teaching participants ways to improve communication by neutralizing and
modifying their accent. Part 2 of this course will be on coaching
participant's communications challenges and issue areas as well as
addressing these challenges: messaging, grammar, accent, intonation,
pronunciation, delivery, syntax, volume, speed, presentation, body
language, facial expressions, etc.
Learning Objectives:
This workshop will help non-native English professionals:
•Effectively communicate with enhanced clarity and purpose
•Reduce complaints and communication barriers improving the bottom line
•Neutralize regional and foreign accents while developing clear methods of delivering message tothe most important audiences
•Better understand how to break down communication challenges effectively when workingtogether.
Expected Outcomes:
The expected outcomes from this workshop should:
• Improve participants' ability to deliver a speech or presentation with proper pronunciation
• Alleviate regional and heavy foreign accents and eliminate common grammatical error
• Encourage methods of replicating standard American speech sounds to increase effectiveness and clarity of communication.
Research has found that:
•Reducing accent increases the speaking effectiveness of foreign-born professionals
•Improving the prosaic features of an accent significantly improves the understandability of aforeign accent
•Increasing speaking effectiveness enhances confidence and manner.
Dottie Li's Bio:
Dottie
Li is a successful cross-cultural communication strategist, keynote
speaker and coach, designing & providing media training and
cross-cultural communication coaching. She has conducted numerous
seminars, workshops, and presentations on the importance of effective
communication.
Her work has been featured on NPR, Voice of
America, CGTN, China Daily and other media outlets. She is a certified
trainer and coach on accent modification and reduction.
Her voice can be heard by millions as the Voice and Voice Coach of Rosetta Stone's Mandarin products.
As
founder and CEO of TransPacific Communications, she has designed many
cross-cultural communication topics that support non-native English
professionals to advance their careers to achieve full potential.
An
important part of her mission at Transpacific Communications is helping
to break down cultural and communication barriers in the workplace,
ensuring that talented individuals (especially non-native English
professionals) fulfill their promise. This simultaneously assists these
government and private organizations to fulfill their mission by
improving employee performance.
Dottie was a newspaper reporter
before moving to the U.S. from China in the 80s. Her background includes
being a broadcaster at VOA, 5 years as a producer at C-SPAN, a
corporate spokesperson, public relations executive, presidential advance
staff for the Clinton White House and communications chief for large
non-profit organizations.
She is sought-after to deliver keynote
addresses and to conduct varied training programs for the Department of
Treasury, Department of Commerce, Department of Agriculture, Food and
Drug Administration, NASA, Defense Logistics Agency, Defense U.S. Coast
Guard, NIH, Centers for Disease Control and Prevention, The National
Science Foundation, NASA, U.S. Consumer Product Safety Commission, U.S.
AID, U.S. International Trade Commission, Voice of America/Broadcasting
Board of Governors, etc. as well as organizations including SHRM,
Amazon, Aerotek, Sodexo, United Way Worldwide, Diversity Women
Conference, MGM Foundation's Annual Women Leadership Conference, and
Women of Color STEM Conference, etc.
Dottie was awarded a Mandarin
Leader in America in 2018 and recently named one of Maryland's Top 100
Women in 2020 and 2015 by the Daily Record. She received the "Best
Cross-Cultural Communicator of the Year" title in 2013 by the MWMCA.

Course Description:
There have been many conversations and
theories around how the Asian community can grow beyond the "bamboo or
glass ceilings" within the corporate world. There are no step by step
formulas for success. However, there are things within your control that
will increase your chances of being successful and happy along the way.
Whether you are an immigrant or first-generation leader, we can't
ignore the role culture, history and the depth of our own
self-awareness, plays in our "corporate identity." Not to mention our
own bias and the bias of others. During this interactive workshop, Bindu
Garapaty, will provide a cultural framework that looks at key
influences and themes leaders need to navigate and grow within the
corporate culture. We will explore the impact of history, the role of
power (masculine and feminine) and the challenges experienced among
different Asian ethnic groups. Dr. Garapaty will share insights gained
from working with executives who continue to break barriers and charter
new ways of leading. We will also look at the role 'community' plays in
supporting individual success. Learning outcomes:
Participants will have a deeper understanding of :
• Your personal relationship with power
• How do perceptions, bias and stereotypes impact your power
• How Asians are perceived in leadership and shifting the narrative
• Who is your sponsor?
Bindu Garapaty's Bio:
As
a true believer in the human potential, Bindu Garapaty has found the
intersection of happiness, human behavior, and leadership. With a
doctorate degree in clinical psychology and an entrepreneurial spirit,
Dr. Garapaty is the co-founder and CEO of The Happy Leader, LLC. She
infuses evidence-based practices and incorporates the importance of race
and culture in leadership. As a first generation S. Asian leader, she
pulls upon her leadership experience in health care, corporate,
academia, for-profit and non-profit organizations, to empower leaders to
find their intersection of happiness, meaning, and impact. She
currently, leads the global mentoring and coaching program, and serves
as an organizational development consultant in talent, development and
inclusion at Gilead Sciences.
Since 1999, Dr. Garapaty has been
committed to supporting and serving in her community in a variety of
non-profit board capacities and her engagement with the Stanford Women
in Management MBA program. Currently, she serves on the Emerging
Executive Advisory Committee of Watermark, Humans for AI, and the HR
symposium. She was the recipient of the 'Emerging Executive of the
Year' award from Watermark in 2016 and was named as Silicon Valley
Business Journal's 100 women of Influence in 2018.

Course Description:
We live in a time of unprecedented
change and upheaval. How will you manage this time professionally? Will
you fall behind, run in place, or leverage this unique moment to advance
your career? Whether your goal is to move up in the organization or
move on, you will need to leverage four things to turn crisis into
opportunity:
A proactive, creative mindset along with daily mind-body practices for resilience and focus
A high degree of emotional and social intelligence to influence and engage others
The ability to create new value by discerning and formulating unmet needs with innovative solutions
A razor-sharp ability to build strong networks inside and outside your organization
In
this engaging 2-hour seminar, join executive coach, experience
designer, and master strategist, Gary Muszynski, in understanding the
above elements for success.
After this session, you will leave with:
- An understanding of how to recognize and transform your mindset through specific practices
- Five ways to stay in touch with your network using a variety of creative approaches
- Proven techniques for uncovering hidden opportunities to add value and gain advancement pioneered by Xerox-PARC and IDEO
- An action plan to solidify your vision and move forward
Gary's Bio
Gary
Muszynski draws on 30 years of experience as a consultant, executive
coach, keynote speaker, and experience designer working with over
100,000 leaders, managers, and individuals in organizations of all sizes
on five continents. He will facilitate rich experiences and actionable
insights drawing on the fields of neuroscience, organizational
development, and his work with global brands such as Apple, Pixar,
Chase, Cisco, Xerox, Genentech, Deloitte, Center for Creative
Leadership, Walmart, and many others. Gary has taught executives and
managers in China and has gained insight into the Chinese mindset from
his work with executives and managers there combined with his long-term
studies of Qigong and Traditional Chinese Medicine (TCM).

Course Description:
Traditional Career Management techniques
and training tend to be very generic and prescribed by mentors,
coaches, and training professionals to prepare individuals for the
pursue of their career objectives. For Asian Americans and others who
immigrated into America, there is another set of hurdles and challenges
just to get to the same starting points with native-born Americans. Most
of these training does not account for the individual unique desires
and aspirations to maximize their potentials. Nor do they offer a
strategy to close the deal so the individuals can successfully reach
their maximal career potential. In this engaging 2-hour seminar, join an
innovative thinker, George Mui for exploring other possibilities on
Career management – know how to close the deal and get what you want out
of your career. Maximizing your career potential with simple but
effective techniques on:
Establishing a baseline of your career objectives.
Create
a brand that set yourself apart from all others in pursuing a job,
leadership job assignment, promotion, and key management position
Establishing a network of supporters and collaborators who can support your career objectives.
Knowing how to create a deal and closing the deal on your next career objective.
George Mui's BIO:
George
Mui, Managing Partner of Global Consultants United is a global
strategist. He develops strategies for corporations, small businesses,
government agencies and non-government organizations with a keen focus
on domestic and international partnerships and collaboration. Leveraging
his corporate executive experience, entrepreneurship, and recent
experiences with the U.S. Department of Commerce and White House
Initiatives for Asian Americans and Pacific Islanders, George Mui has
developed an unique program designed to help Asian Americans to look at
Career Management as a business deal and learn how to develop a
strategy, prepare, promote, and close the deal to maximize one's career
potential.

彭念霞 Cathy Peng, CEO of ROCS Global, which is an executive consulting
firm specialized in talent recruiting and leadership training. Its
headquarter is in Silicon Valley, United States.
As a prominent
Asian American business leader, she is a frequent invited Asian American
business leader at the White House in Washington, DC. Cathy has
frequently delivered world class training and seminars at leading
institutions, such as University of Chicago, Stanford, Tsinghua
University and Beijing University, etc. Having conducted business in
over 40 countries, Cathy speaks English, Mandarin and Cantonese.
She
has an MBA from the University of Chicago, Tsinghua University Career
Coach and Global Executive Coach. Cathy has won global awards, including
the Woman of M2M Award in 2014, Business Leader of Color Award in 2013
and Emerging Executive Leader.
Cathy Peng,从一名工程师到CEO, 从事过供应链管理,销售,市场,品牌管理,从美国大公司,到欧洲公司,到美国高科技创业公司,多次搬家从芝加哥,到北欧芬兰,到纽约,圣地亚哥,硅谷,先后在四十多个国家发展业务,Cathy 有非同寻常的职业生涯。
Cathy Peng现任ROCS Global CEO,ROCS Global 公司总部位于美国硅谷,专业从事全球人才招聘服务、企业及高端人才领导力培训、高管教练服务。公司服务覆盖美国、中国、欧洲、印度、日本、中国台湾等地区。
Cathy作为杰出的美籍华人商业领袖, 多次被白宫邀请作为亚裔代表参加商务高峰会议。受邀出任大型国际会议及多所世界名校演讲者。她是清华大学职场导师, 全球高管教练。Cathy曾获得全球物联网杰出女性奖,有色族裔商务领袖奖,全球百名新兴领袖奖等荣誉。
---
---
Please Login to reply this topic. If you do not have account, please Register.